Pet and Animal Policy
Renters Place works to limit the upfront move-in costs to our tenants by allowing a lower upfront Pet Fee and paying a Pet Fee on a monthly basis.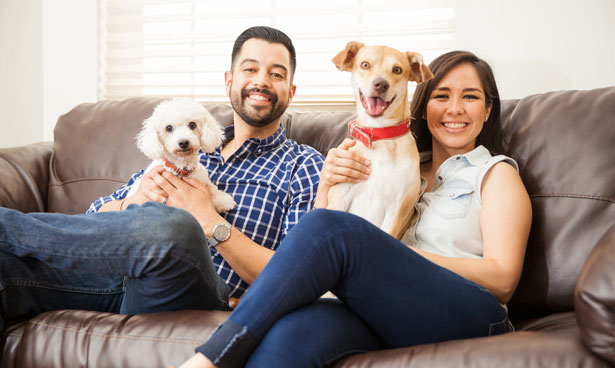 Pet Fees
| Up Front Pet Fee (non-refundable) | $200 per Property |
| --- | --- |
| Pet Fee Surcharge | $100 per Pet |
| Unauthorized Pets | Fine $500 per Pet |
| Monthly Pet Fee | $30 per month per Pet |
Pet Fee Surcharge
Any pets that are the breed of Doberman Pinscher, Great Dane, German Shepherd's, Boxer, Siberian Husky and Dalmatians
Any Parakeets, ferrets, and snakes
Puppies & Kittens (under 1 year) are allowed with an additional $300 surcharge
Any pet or animal over 75 lbs in weight
Unauthorized Pets
$500 Fine per Pet
* Pit Bull Terriers
* Staffordshire Terriers
* Presa Canarios
* Livestock
* Rottweiler's
* Alaskan Malamutes
* Cane Corsos
* Farm Animals
* Chows
* Pit Mix of any kind
* Wolf – Hybrid
* Poisonous Animals
* Akitas
* Mastiffs
* Exotic Animals
* Dangerous Animals
Compliance
We understand that your pet is part of your family. Compliance with our pet policy, communication and transparency is of the utmost importance. You cannot substitute a pet without letting us know immediately. Unauthorized pets are a breach of the lease and will be assessed a $500 fine per unauthorized pet.
Service Animal
Landlord Tenant Act 2018 Revision
B. A person with a disability may submit a request for a reasonable accommodation to maintain an assistance animal in a dwelling pursuant to the Fair Housing Act, as amended, 42 U.S.C. S 3601 et seq., the Americans with Disabilities Act of 1990, 42 U.S.C., S12101 et seq., and S 504 of the Rehabilitation Act of 1973, as amended, 19 U.S.C., S701 or any other federal, state, or local law. Unless the person making the request has a disability or disability-related need for an assistance animal that is readily apparent, the landlord may request reliable supporting documentation that:
(1) is necessary to verify that the person meets the definition of disability pursuant to the Fair Housing Act.
(2) Describes the needed accommodation
(3) Shows the relationship between the person's disability and the need for the requested accommodation.
The landlord may independently verify the authenticity of any supporting documentation. Supporting documentation acquired through purchase or exchange of funds for goods and services shall be fraudulent supporting documentation.
C. A landlord shall not be liable for injuries by a person's assistance animal permitted on the landlord's property as a reasonable accommodation to assist the person with a disability pursuant to the requirements of Subsection B of this section.
D. If a person obtains a reasonable housing accommodation under this section by knowingly making a false claim of having a disability requiring the use of an assistance animal or by knowingly providing fraudulent supporting documentation in connection with the claim, the landlord may remedy the person's non-compliance by the procedures authorized pursuant to the Oklahoma Residential Landlord and Tenant act in S132 of Title 41 of the Oklahoma Statutes. Additionally, a prevailing landlord in an eviction action under this section may receive an award of court costs and fees, plus damages not to exceed One Thousand Dollars ($1,000.00) from the tenant.